I'm soooooooo excited to FINALLY announce I made it on my first 2 design teams!
I will finally have motivation to "get those pages done and those memories on paper"! :D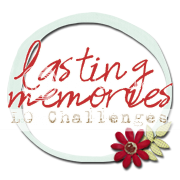 Check back Sunday for my first Lasting Memories design team challenge layout!!
Here is a sneak peak ;)
And keep an eye out tomorrow for my second design team announcement and first challenge layout!!
Michelle:D
HAPPY SCRAPPING!!